Fuel Hoses
COPIED TO: www.cx500wiki.com
The fuel hoses used on the CX models are slightly smaller than the one on the GL Series. The original ones were metric sized, but these are not commonly available in the U.S. The original size for the CX was 6 mm. This translates into 1/4" in the inch sizes. The GL used a 7.5 mm fuel hose and the closest available is the 5/16" here.
Most importantly is that you use a hose designed for use as a fuel line. There are many black rubber hoses that should only be used for vapor travel in the engine. These are not designed for long term exposure to fuel and should never be used. Likewise, there are some clear tubes available at the hardware store. If it does not say specifically for fuel use, don't use them. Traveling down the highway with your crotch on fire is not the way to spend a afternoon.
Since the hoses available are not exact size replacements to the original, proper fitting clamps should be installed on all the connections that appear to have any looseness.
The drain hoses are 1/8" in size, or that will work. They do not have to be fuel rated as they should never be exposed to constant fuel. All other vapor hoses can also be non fuel rated and it is best to take the old hose or the connector with you to get a proper size.
---
Here is a diagram of how the hoses hook up on a vacuum petcock. Thanks for the picture, Allan
he 2 brass ports on the inside of the carbs are the float bowl vents and do not connect to anything and are not covered.
Vacuum hose routing is shown in this diagram. Hose B is routed to the bottom of the bike and does not connect to anything.
Resized to 55% (was 640 x 510) - Click image to enlarge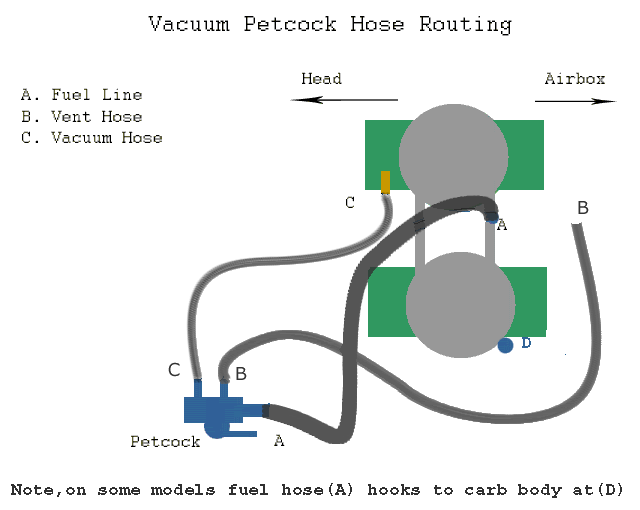 This site is backed by Number 85, who provide the hosting. If you need a website done, get in touch with them.